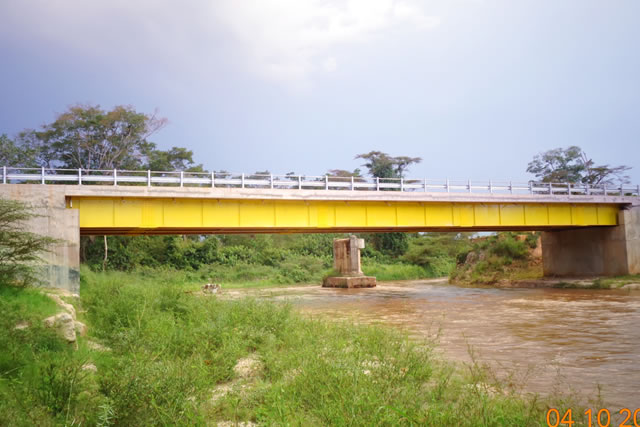 collapse of Ntungwe Bridge on April 15 2012 leading to the closure of Katunguru- Ishasha road, a primary link through the Queen Elizabeth national park had a major impact on tourist inflow to Uganda's choice tourism destinations between Kazinga channel and the gorilla tracking in Bwindi impenetrable forest.
Armpass Technical Services Limited in a joint venture with FETL took part in the bidding exercise for the replacement of the collapsed bridge and subsequently was awarded a design and build contract to replace the collapsed Ntungwe bridge with a permanent 100yr life span full load capacity bridge.
The scope of works for the bridge included design and execution of bridge substructure works, fabrication, supply and commissioning permanent modular bridge structures at Ntungwe on Katunguru-Ishasha road, all of which were executed to completion by Armpass-FETL Joint venture.
The new Ntungwe Bridge is a two lane carriageway bridge, with 1M dual walkways and a 45M long single span. It is designed to accommodate full BS 5400-2006 (HA +30 units HB) or euro code LM1 loading and LM3-minimmum SV 100, has a minimum of 100 years life span and 2 million fatigue cycles. It is also designed with limited or no structural members above road level to minimize structural collision damage.
The replacement of the collapsed bridge with the new permanent bridge has had a profound impact on both trade across the Uganda Congo boarder and transportation across the sub-region, quantity of goods across the Uganda Congo border has exponentially increased. There has also been a noticeable improvement in access to Uganda's renowned Queen Elizabeth national park and Bwindi impenetrable by tourists, a major boost to tourism in Uganda. Tourist vehicles can now navigate through the Katunguru –Ishasha link with much ease and less time spent on the road.
With a team of experienced personnel and years of experience in the construction industry, Armpass Technical Services will continue to deliver. Ntungwe bridge was completed in December 2015 and is now fully operational and open for public use.