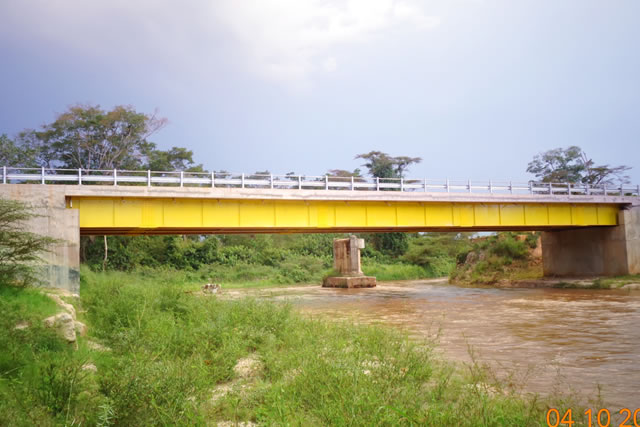 Mitaano bridge on
Rukungiri-KIhihi road had been the only navigable route to Kanungu district and its commercial town of Kihihi, it had also been a link to the Queen Elizabeth and Bwindi impenetrable national parks, the major tourist attractions in the region. However, due to the impact of heavily loaded trailers en-route to The Democratic Republic of Congo, the bridge was brought down on the 13th May 2012 consequently leading to hiked transportation fares across the region, longer time spent travelling due to alternative routes being difficult to navigate, and a general slump in tourism within the region.
Armpass Technical Services Limited in a Joint Venture with FETL was awarded the contract to replace the lower capacity dilapidated single lane bridge with a state of the art modern bridge.
The scope of works included; Supply and installation of modular two lane (minimum 7.0) carriageway bridge for Mitaano crossing with 1m dual walkways, 68m long span (approx. 34×2
The bridge was designed to accommodate full BS 5400-2006 (HA +30 units HB) or Euro code LM1 loading and minimum SV 100, a minimum 100 years life and 2 million fatigue cycles, longitudinal and transverse modularity for quick installation and future expansion/widening and limited or no structural members above road level to minimize structural collision damage.
The replacement of the collapsed Mitaano Bridge with the new bridge has led to major improvements in tourism and transportation across the region, simply because navigation of vehicles transporting goods, ordinary passengers and tourists visiting the national parks has become much easier and also time spent travelling across has reduced greatly. Mitaano bridge was completed in December 2015 and is now fully operational and open for public use.